Craft Beer Kits
Our signature Mr. Beer fermenter, known affectionately as the LBK (Little Brown Keg), was developed for home brewing that is little on space, and big on flavor. No matter which Craft Beer Kit brewing kit you choose, we know the experience of brewing from home with Mr. Beer will be a rewarding one!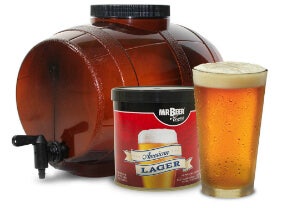 Rich golden color, an exceptionally well balanced full malt flavor, and mild bitterness with a subtle hint of finishing hop aroma. This beer is the perfect example of the typical American lager style, and is a great beer for all occasions.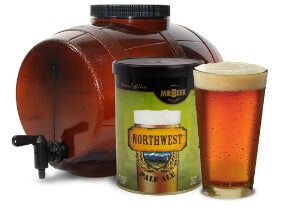 A classic US craft style, this pale ale is a rich amber color, with a full malt character. A highly refreshing woodsy hop aroma and clean bite make this beer a standout. It's a genuine craft classic.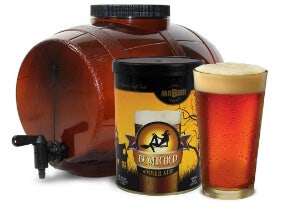 She's feisty, this one, but not too bitter. Showcasing vibrant amber hues, velvety smooth caramel malt character, even bitterness and a delicate citrus hop aroma, this amber ale epitomizes the characteristics that make this style a microbrewery standard.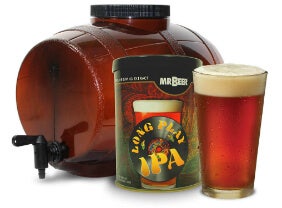 This beer delivers the variety's hallmark hoppy flavor in a world-class, drinkable session brew. This beer is the perfect compliment to a late night jam session, a weekend BBQ, or just a relaxing evening with friends after a hard days work. With its golden caramel color, floral aromas, and signature IPA intense bitter finish, friends will have a hard time believing you brewed this beer yourself.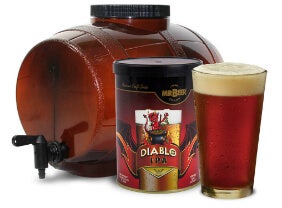 A fiendishly hopped American IPA. Fiery amber in color with an intense mouthfeel, displaying a blend of floral spice and stonefruit aromas with a firm and lingering bitter finish. For those not afraid of hops!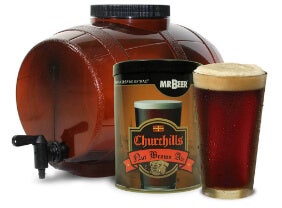 This traditional English Brown Ale boasts a deep reddish-brown hue that is offset by a light lacey head. A rich, chocolaty flavor balanced out by a slight hoppy finish make this old school brew complex and smooth all at once. It is no wonder this beer style has withstood the test of time.