 In anticipation of our own Lock Stock and Barrel (Aged) Stout release, the Mr. Beer team chose to dedicate our Thursday to trying out the heavy hitters of the barrel-aged beer realm. Barrel-aged beer tasting gets you comfortable much faster than typical beer tasting. Actively tasting four barrel-aged beers back-to-back took focus and caution. Admittedly, after the first two I had to really reign my taste buds back in from the smoky, chocolatey, warm goodness. Read on to learn what set these four beauties apart.
Drew Curtis / Wil Wheaton / Greg Koch Stone Farking Wheaton W00tstout by Stone Brewing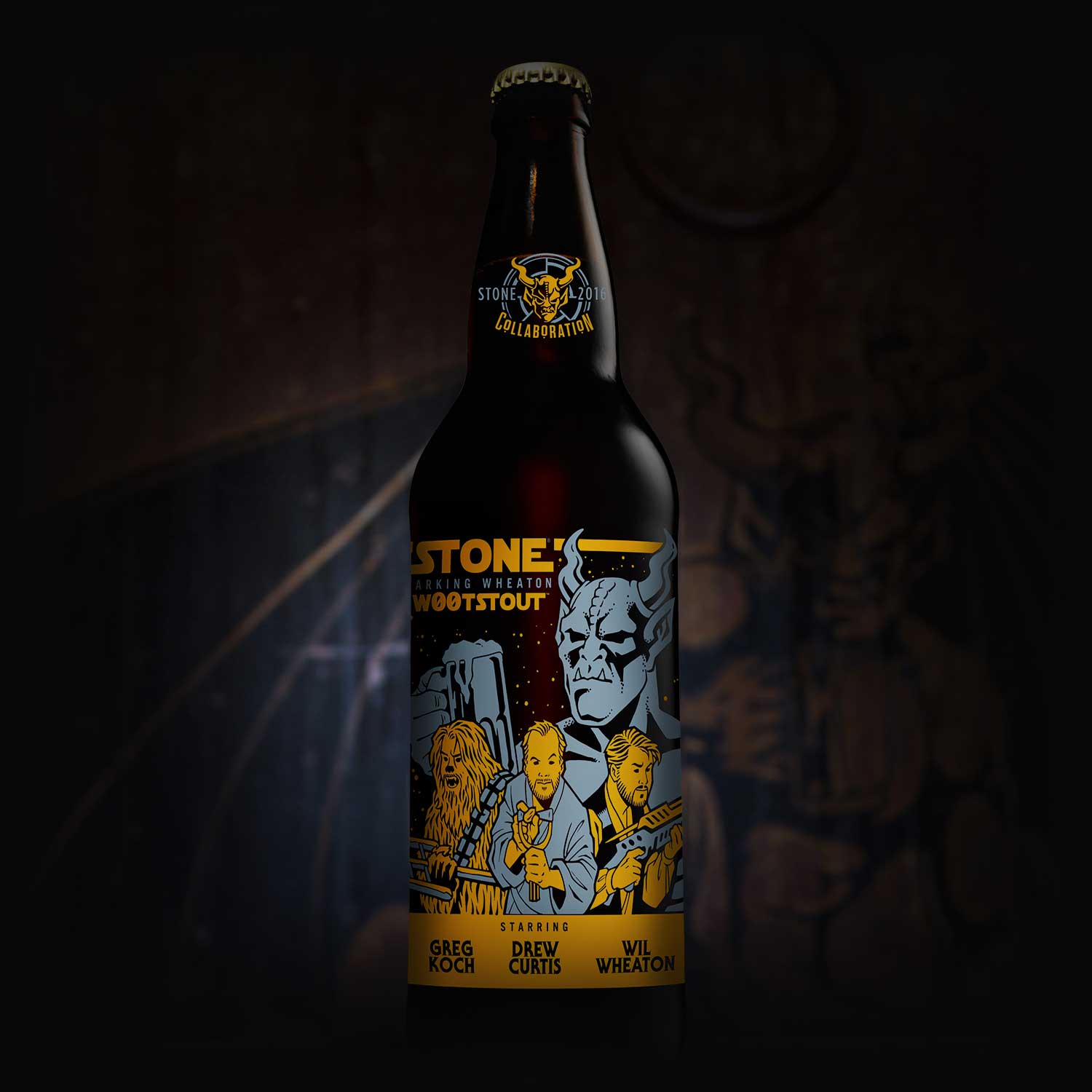 Farking Wheaton W00tstout - Stone Brewing[/caption] Photo Courtesy of Stone Brewing
Aroma The malts here carry sweet smells of biscuit and caramel while also boasting a strong roasted scent. The higher ABV here is also noticeable at first sniff.
Appearance This stout pours a beautiful, hazy, black color, with a diminishing, creamy head and some residual lacing.
Flavor Sweet dark fruit and estery yeast taste up front with a lasting, roasted malt finish.
Mouthfeel Thick, viscous consistency here with light carbonation, a full body, and a lasting warm sensation from all that tasty bourbon.
Overall Tasting Notes "Very heavy and alcoholic," "strong beer," "good but strong," "complex," say the team, though oddly enough nobody made note of a remarkably nutty or pecan-like flavor anywhere.  
Black Butte XXVII by Deschutes Brewery
Aroma Wow, what can't we say about the smell here? Delicious. We notice sweet biscuit and chocolate notes with a roasted/toasted nature to them, earthy hops, estery yeast again, and that boozy smell of bourbon.
Appearance A hazy, root beer colored Porter, topped with a creamy and diminishing head.
Flavor Tastes like sweet, chocolatey dark fruit and toasted malts with spicy, resinous hops, estery yeast and of course – bourbon.
Mouthfeel The mouthfeel here is excellent. This Porter is smooth and velvety with light carbonation, a medium body, and a long, warming finish.
Overall Tasting Notes Notes on this brew were "complex transitions from sweet to biscuit to resin - spicy hops to smoky/toasty," "flavor is like chocolate covered black cherries – very nice," and that this Black Butte (27) is tastier than 28.
Black Butte XXVIII by Deschutes Brewery
Aroma Sweet, biscuit, chocolate, roasty, toasty malts hit your nose first, followed by spicy, earthy hops, banana-bread estery yeast, and of course bourbon.
Appearance Black Butte 28 pours a blackish, root beer tone with a creamy, diminishing head.
Flavor The sweet, smoky, dark fruit malts, and spicy bitter resinous hops mingle well with the bourbon in this Porter.
Mouthfeel This one has a velvety consistency, creamy carbonation, medium body, and an everlasting warming finish.
Overall Tasting Notes We detect tannins and scotch flavors here, and feel as though the alcohol is more prominent than in the Black Butte 27, thought this Black Butte has a nice smokiness and bitter finish.
Barrel Roll Pugachev's Cobra by Hangar 24 Brewery
Barrel Roll No. 3 Pugachev's Cobra - Hangar 24 Brewery[/caption] Photo Courtesy of My Beer Collectibles
Aroma Sweet malts, earthy hops, chocolate, and bourbon create the backbone of this stout's delicious smell.
Appearance This Russian Imperial Stout is black and cloudy with a creamy, diminishing head.
Flavor We tasted vanilla, chocolate, dark fruits, roasted malts, resinous hops, and of course the bourbon!
Mouthfeel "Silky", "velvety", "thick and chocolatey," "smooth, delicate, full bodied, with a long finish" – what can I say? We felt romanced by this stout.
Overall Tasting Notes The velvety mouthfeel, dark fruit, chocolate, and vanilla make this barrel-aged stout especially delicious.