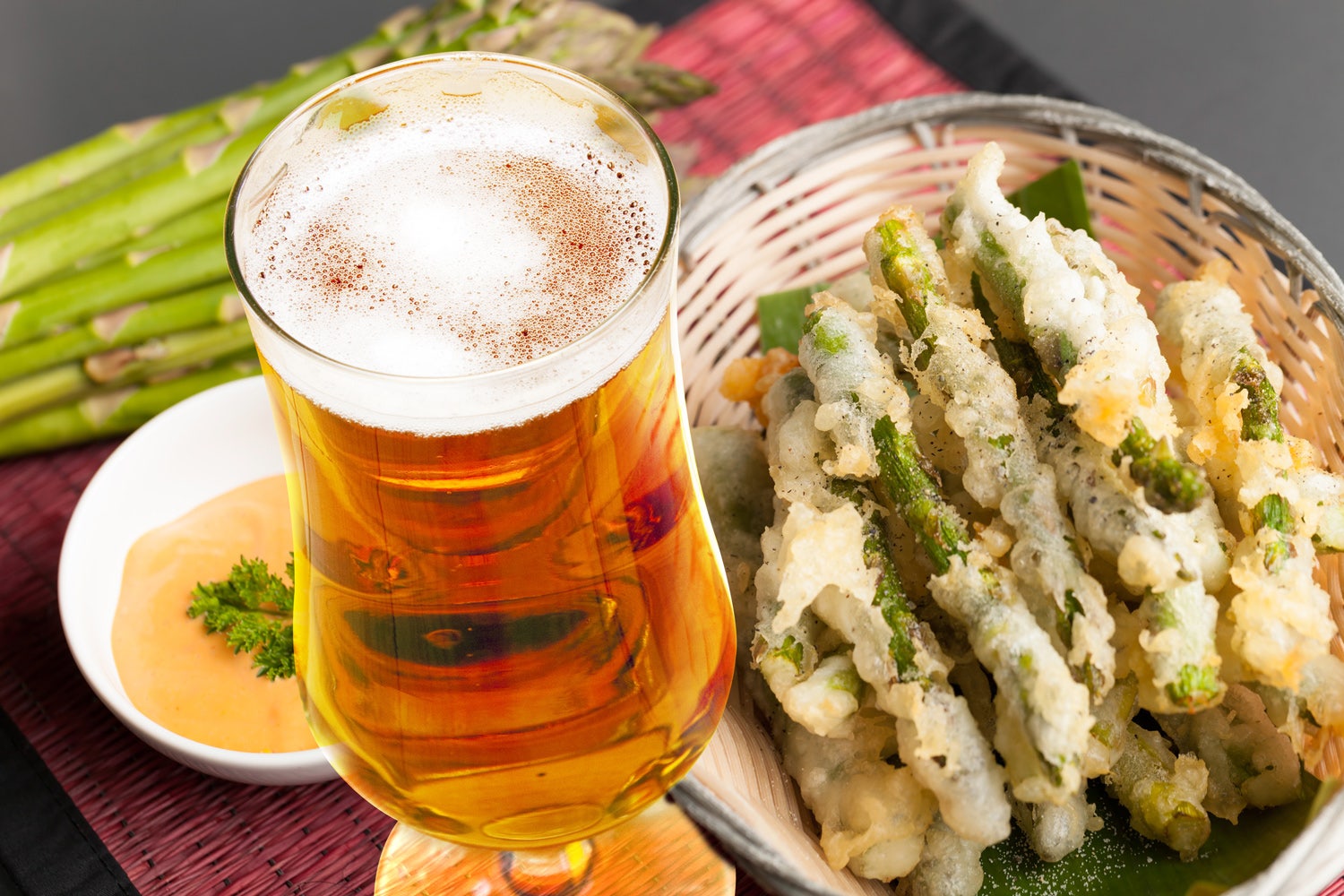 I can't believe it! It is nearly Spring already! When I think of warmer months on the horizon, I think of cold beer, springtime activities with the family, and great food! Speaking of great food, if you have a hard time finding reasons to eat your veggies, this beer-battered asparagus recipe might just change your mind. Paired with a tangy and refreshing dipping sauce, you might not have to bribe anyone to eat these!
What you need:
1 bunch of medium-sized asparagus with the ends trimmed
2 cups of buttermilk
2 eggs separated
¾ cup beer (Northwest pale ale or other Pale ale beer)
¾ cup All-purpose flour
¾ cup white cornmeal
1 teaspoon salt
½ teaspoon cayenne pepper
½ teaspoon black pepper
4 cups peanut oil
Sea salt
Dipping Sauce:
1 cup mayonnaise
1/3 cup lemon juice
½ tablespoon Dijon mustard
Zest of one lemon
4 tablespoons minced garlic
1 tablespoon tarragon leaves, minced
¼ teaspoon black pepper
1/8 teaspoon cayenne pepper
Salt
How to make it:
In a shallow pan, soak asparagus in buttermilk for 12 to 24 hours. After, remove asparagus from buttermilk, but do not rinse. Set aside.
In a large bowl, combine the egg yolks, beer, flour, cornmeal, salt, cayenne pepper, and black pepper. In a large deep pot, heat peanut oil to 350 degrees F. Meanwhile, in a large clean bowl with an electric mixer, beat egg whites to stiff peaks. Gently fold beaten egg whites into the batter mixture. Dip spears, 1 at a time into batter, then carefully lay in oil. Do not overcrowd the pan or they will become soggy. Fry in batches, if necessary. Fry for 2 to 3 minutes, turning the spears with tongs to ensure even cooking. Drain on a paper towel-lined plate. Sprinkle with sea salt, to taste. Serve immediately with cold dipping sauce.
How to make the dipping sauce:
In a food processor, combine all ingredients and blend well. Refrigerate for 1 hour before serving.
Now all you must do is pour a cold one and sit back and enjoy some delicious eats! I hope you enjoy this recipe and if you make it, please let us know what you thought in the comments!
Cheers!
Ashley