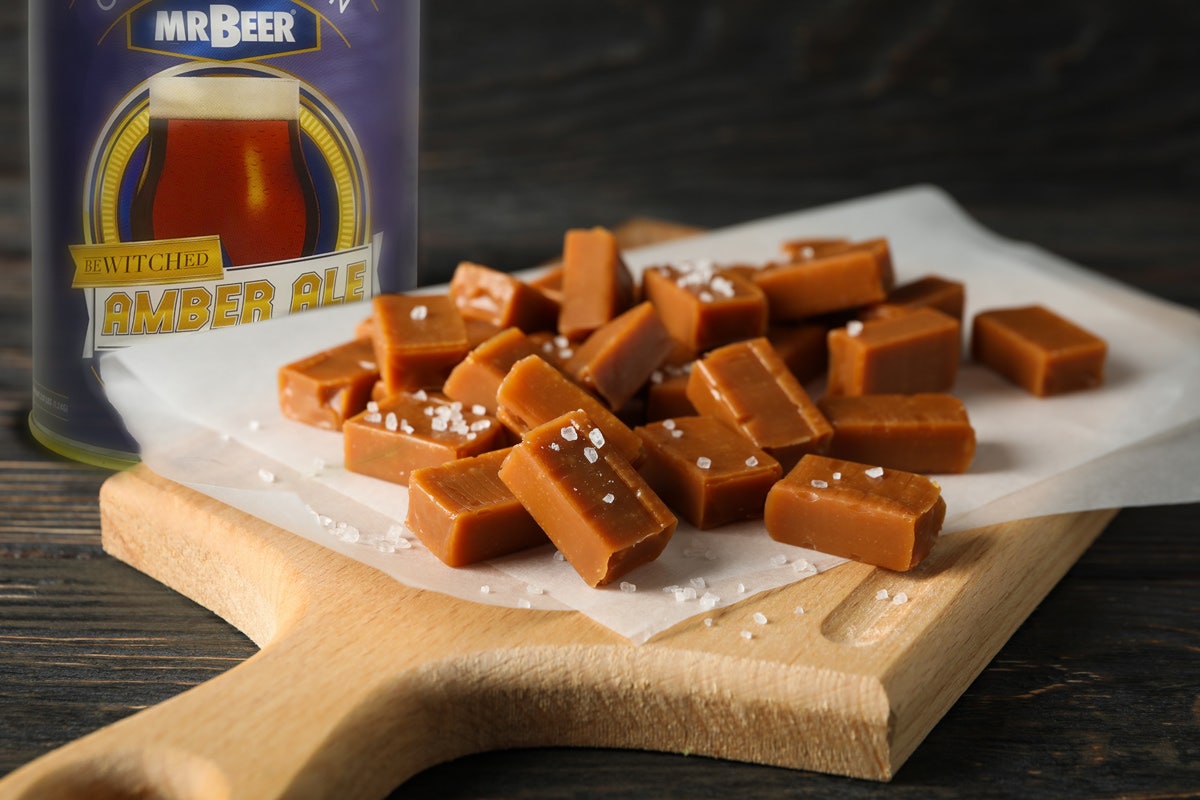 Looking for a sweet treat to whip up for those summer celebrations? Wouldn't it be even better if that treat contained some of YOUR delicious homebrew? Say no more, because today I bring you my recipe for; "Bewitched Caramels"! These delicious little morsels don't require a lot of effort, but they yield a hefty number of servings and if you opt to wrap them individually (which I highly suggest) they provide the perfect portable and giftable way for people of all ages to enjoy a little bit of your beer, without any of the buzz! I personally love them as an afternoon pick-me-up with a nice coffee (stout) as my beverage.
What You Need:
4 cups of Bewitched Amber Ale (Oktoberfest would also work)
1 teaspoon plus 1 cup of butter, divided.
3 cups of sugar
2/3 cup of light corn syrup (not the dark one)
2 cups of heavy whipping cream, divided.
1/3 cup water
1 teaspoon salt
About ½ teaspoon kosher salt
Candy thermometer (helpful)
A clean pastry/basting brush (also, helpful)
How to make them:
In a large saucepan, bring beer to a boil; cook until reduced to 2/3 cup. Set aside to cool.
Meanwhile, line a 9-in. square pan with foil; grease the foil with 1 teaspoon butter and set aside.
In a Dutch oven or large, deep-pan, combine the sugar, corn syrup, 2/3 cup cream, water, salt and remaining butter. Cook and stir over medium heat until a candy thermometer reads 238°, about 20 minutes. In a small bowl, combine reduced beer and remaining cream; slowly stir into sugar mixture.
Using a pastry brush dipped in cold water, wash down the sides of the pan to eliminate sugar crystals. (This part is important so you do not end up with gritty caramel) Cook, stirring constantly until a candy thermometer reads 245° (firm-ball stage), about 30 minutes.
Remove from the heat. Pour into prepared pan (do not scrape saucepan), sprinkle with kosher salt. Let stand until firm, about 5 hours or overnight. Using foil, lift candy out of the pan. Discard foil; cut candy into 1-in. squares using a buttered knife.
I like to wrap them individually in wax paper so that they can be easily and hygienically shared…. If sharing is your "thing", that is.
I hope you enjoy this recipe, and if you make it, let us know! Until next time, Cheers!