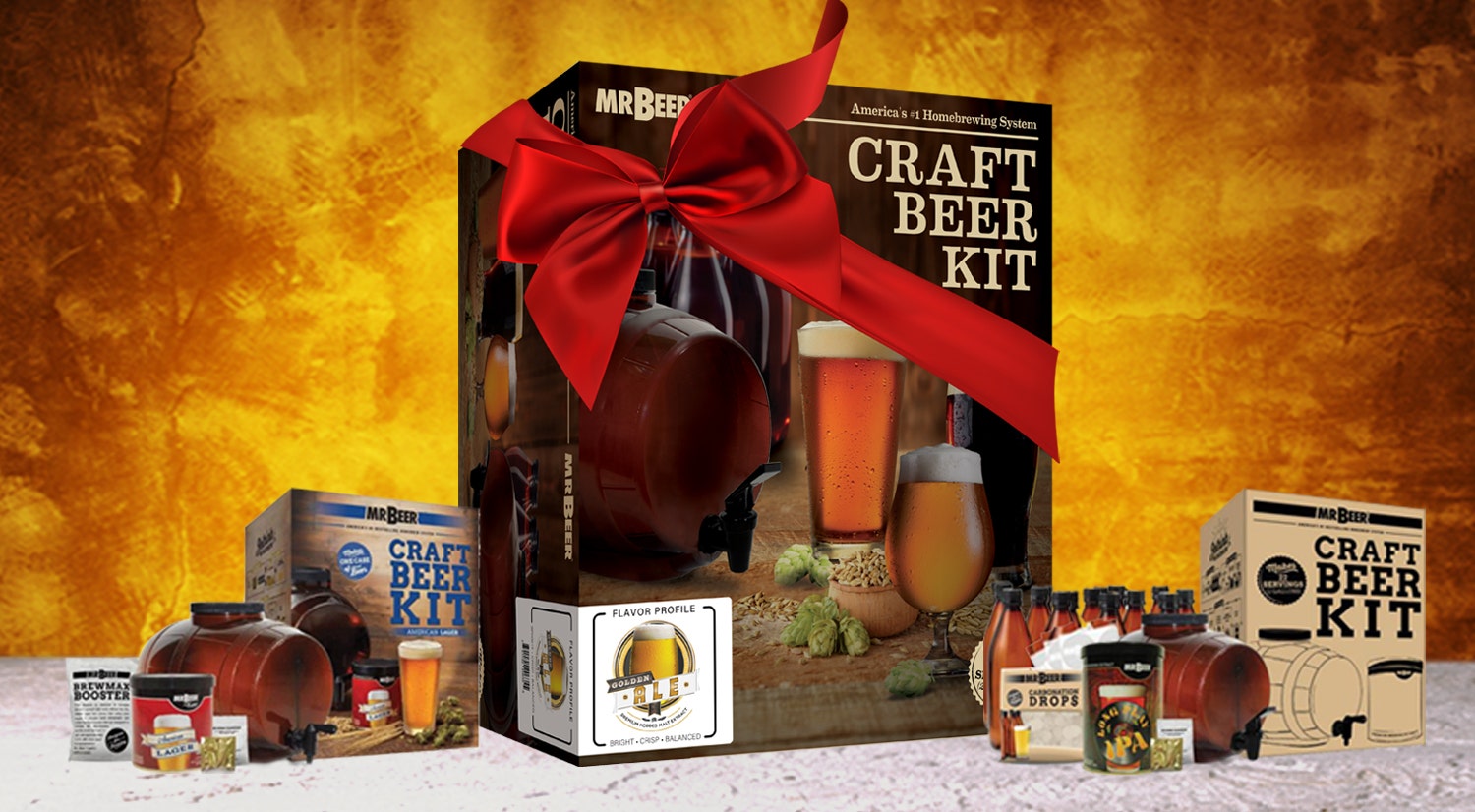 As the holidays come near you must be wondering what to get that person who has everything? It's hard to find that perfect gift that is not boring and not the same old stuff. Instead of thinking of all the mundane gifts, think of something cool and exciting! If the person your shopping for likes beer, like really likes beer, then get him a Mr. Beer Kit! As Cousin Eddie would say, "Clark, that's the gift that keeps on giving the whole year".
The great thing about a Mr. Beer Kit is, it's simple to use and you don't need to get anything else. As long as you have some common kitchen items, can follow the easy step by step instructions, and work a can opener you should be good to go.
We offer two main types of Kits, our Starter Kit's and our Complete Kits. The Starter Kits will come with our 2-Gallon Fermenter, a Mr. Beer Refill, and our No-Rinse Cleanser. Everything he needs to get started brewing.
The Complete Kit's will come with everything included in the Starter Kit's, but it will also include Bottles & Caps and our amazing Mr. Beer Carbonation Drops which make bottling ridiculously easy.
Our Starter Kit's and Complete Kit's come in 6 different flavors.
We have our American Lager Kits which are great for those who enjoy light beer. Similar to Budweiser, Bud Light, Sam Adams Boston Lager, or just any light American style lager.

The next most popular style is our IPA Kits. We offer 2 different types of IPA's. Our Long Play IPA is going to be a light color west coast IPA, very similar to the IPA's you find in a lot of local craft breweries. The other IPA is our Diablo IPA. This beer is going to be more of amber or reddish color with all kinds of hop flavor. These kits are great for those who love the extremely hoppy beers.
Our Northwest Pale Ale Kits perfect for anyone who likes Sierra Nevada's Pale Ale or any beer that is light in color with a mild hop flavor. If your buying this for someone who is into craft beer this would be a great kit for them as the Pale Ale styles is a staple in most breweries.
We have our Bewitched Amber Ale which is a smooth beer that is perfectly balanced in flavor. An ideal kit for someone who is not a fan of lighter beers and enjoys something more flavorful.
The great thing about all our Mr. Beer Kits is that they are reusable. The only thing that would be needed to brew again would be a Mr. Beer Refill or to choose from over 100 Mr. Beer Recipes.
If you're looking to get a kit, and an extra brew to keep the beer flowing for a little while we recommend getting a second Refill before moving on the Recipes. (If you want to learn what a Mr. Beer Refill is, check out our What is a Mr. Beer Refill Video Blog.)
Just remember, no matter what Mr. Beer Kit you get, the receiver of your awesome gift, will be forever grateful that you introduced them to homebrewing and did not get him a year subscription to the jelly of the month club.