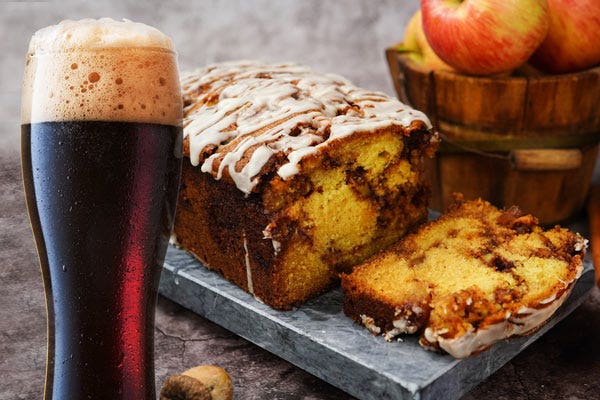 Fall is coming! Fall is coming! Okay, I know that's not how it goes, but it's still a true statement. Cooler months are right around the corner and with that, comes my desire to bake warm, delicious treats that contain my other favorite thing, beer. That's where this delicious, not too sweet, apple and stout, "breakfast bread" takes center stage! Whole wheat flour and velvety stout, join to make a truly sumptuous beer-infused, treat! Here is how to make it!
What you will need:
¼ cup butter cut into small cubes, plus a little more for greasing your pans
1 Large Fuji apple (or similar variety) Peeled, sliced cored, and diced.
175 grams of all-purpose flour
450 grams of whole wheat flour
90 grams Oatmeal
2 ½ tsp baking soda
4 TBSP Sugar
About 6 ounces of Stout beer
5 TBSP Molasses
400 ML Buttermilk
How to make it:
Heat oven to 350 degrees F. Butter three 1lb loaf tins.
Add apples to a bowl and toss the apple with 2 tbsp of the plain flour.
In another large mixing bowl Mix the flour and oatmeal with 1 tsp salt and the baking soda. Add the butter and mix it in with your fingertips then, stir in the sugar.
Make a "hole" in the middle of the mixture and gradually pour in the stout, followed by the molasses, then the buttermilk. Mix the liquids in with a spoon as they are added, also working in the floured apple. Work quickly and be careful not to overmix.
Divide the mixture between the loaf pans and bake for 35-40 mins. To test whether the loaves are ready, remove one from the pan and tap the bottom. If it sounds hollow, it's ready; if not, return to the oven for a little longer. Turn the loaves out of the pans and leave them to cool on a wire rack.
This is not a very sweet bread, so it tastes amazing with a bit of jam or honey!
I hope you enjoy this delicious recipe; if you have any questions or make it, please let us know in the comments!
Cheers!
Ashley