There is a hidden door in our brew room unknown to most. It opens up a brewing dimension as vast as space where brewing ingredients are infinite. It is the middle ground between lagers and stouts, between extract and grain, and it lies between the pit of man's empty LBK and the summit of his brewing knowledge.
This is the dimension of brewing imagination.
It is an area which we call the Clone Zone….
5400 Second IPA

Thomas Tank's Farmhouse Ale

Clone of Dogfish Head 90 Minute IPA

What if you could brew what many experts consider to be the best IPA in America? You can do it with our recipe. It has a strong malt backbone that provides fullness and caramel flavor to support the bitterness. The hops provide heavy pine and citrus aromas. A steady flow of hops in the boil are key to the unique bold taste that you expect. But it is simple, so turn on your favorite podcast and get hopping!

Clone of Boulevard Tank 7 Farmhouse Ale

Who doesn't love trains and farms? We're nostalgic for days-gone-by and have our own take on one of the best farmhouse ales. It's approved by Thomas the Tank who loves rumbling around the countryside and, every now and then, quaffing a pint of beer. It may play heck with the engine but it's good for the tummy and it makes him chug faster. You'll love the fruity aromatics and grapefruit overtones. This straw colored beer is the perfect complement to spring and summer barbeques. So relax and take 7.
Egocentric Jerk

Day After Day IPA

Clone of Stone Brewing Arrogant Bastard

Hey dude, there is no way you can brew this beer. It's complex and way beyond your palate. So, why don't you grab a Bud and watch some TV… Still here? You might be worthy. This aggressive beer is a hybrid of an Imperial Brown Ale. You can taste caramel, chocolate and dark fruits. It's more bitter than a typical brown ale with a strong presence of pine-resin hops. If you're looking for a brewing adventure, this one's for you.

Clone of Founders All Day IPA

I remember finding out about this beer. Every day my mind is all around beer. Looking out from my brewing room, day after day. Bring it home, better make it soon, this beer is for you. Founder'd in the belief that beer should be enjoyed All Day, we've developed a recipe that doesn't take all day to make. It is a smorgasbord of malts and hops with a clean finish. Now you can make a perfect replica of one of the most delicious IPA's - ever. It's Bad, tell everyone it's yours.
Pennsylvania Traditional Lager

Workout IPA

Clone of Yuengling Traditional Lager

What if we said you could brew a beer that dates back to the 1930's? A beer that is as rich in tradition as it is in flavor. A recipe that saved an historic brewery in the 80's during the years of parachute pants and acid washed jeans. This brew boasts a rich, flavorful, malty body with a clean crisp finish as smooth as wearing your Members Only Jacket and Sunglasses at Night. This beer is darker in color and has more flavor than your traditional lager. It has a following that has lasted generations, kind of like Bon Jovi. You can't get this beer west of the Mississippi so the only way to taste the history is to brew it yourself!

Clone of Lagunitas Day Time IPA

Looking to gear up for the Tour de France or want something light and easy drinking after those long 60-mile rides, or maybe you just want a beer you can drink all day? (We don't judge) Well, this IPA is just what you need. This Work Out IPA packs in some serious bitterness on a lightweight frame with only 110 calories and 6 carbs. You can drink this beer knowing that your calf muscles will stay shredded or that you can enjoy them all day without falling over by dinner. (Again, no judgement here) This beer is a must brew if you like light beers that pack some bitterness, you will not be disappointed! Well, you won't be disappointed in your beer, you probably won't be riding in the Tour de France this year, sorry.
Rusky Business

Seawench Gose

Clone of North Coast Old Rasputin Russian Imperial Stout

We can't keep a secret on how to make this classic Russian Imperial Stout. In fact, we've simplified the process for making it. The only risk might be that you and your friends will drink it before the next batch is ready. It's big, bold and dark. The high bitterness level for a stout will pleasantly surprise you. If you like to brew beers with rich, complex flavors…you're in business.

Clone of Dogfish Head Seaquench

Is the thirst singing to you? You can't resist the unbelievable flavor that the Seawench has to offer. An easy drinking beer with a salty, sour, and lime finish. This beer is sure to quench your thirst. Be warned, a few too many of these and you will be singing late into the night.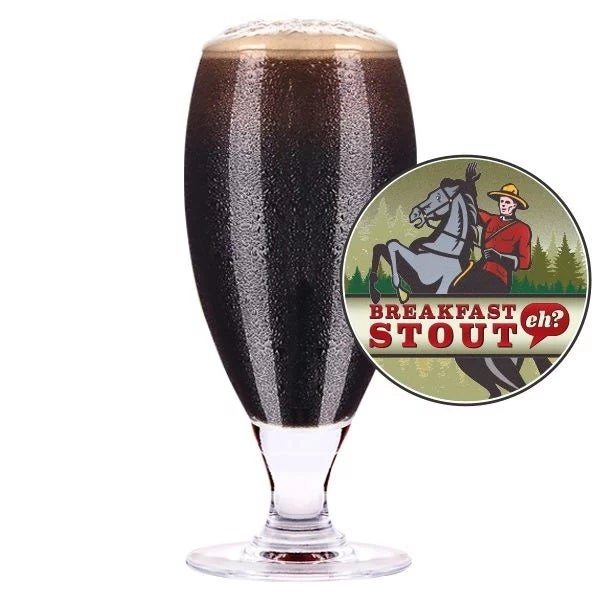 Breakfast Stout Eh
Clone of Founders Canadian Breakfast Stout
Travel up far north and you'll discover a Canadian's favorite way to get warm. Drink Imperial Stout. It is so good you can drink it year around. Who can resist the taste of roasted coffee and chocolate blended with bourbon? Top it off with maple syrup and you've got a breakfast stout, eh? It's strong, so if you imbibe, don't get on a horse.