Welcome Necro Fans - Here are the special kits and recipes just for you!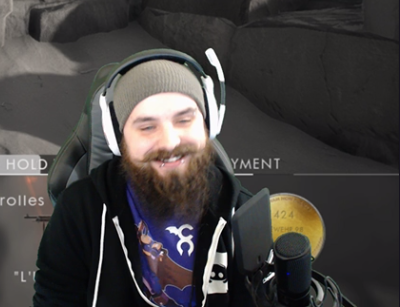 Let's Meet Necro!
We met Necro when he was still Necrosaurus Rex and had dinos as a thing. He had a relatively small following, but what I really liked was the dedication that he had to his followers. Being on the Internet can be a difficult thing and you can get pretty salty if you let those kind of things bother you. If you followed his link here, you know that he is a great guy to hang around and the channel is a group of great people as well. Right from the beginning Necro wanted to make sure that the people that he dealt with were as honest and straight forward as he is and I appreciated that about him. He streams mostly Battlefield 1 and some Rainbow Six Seige thrown in for the hell of it.
Beer
As gamers, you want to spend as much time gaming as you can, but you still want some decent beer to try. Yes, craft breweries have done a great thing and I have enjoyed MANY of them, but sometimes, you just must create your own. These are two great reasons why I brought Mr. Beer up to Necro. Mr. Beer makes beer quick and easy. I also left it up to Necro to determine how good it was as well. Opening up the first beer he made was done on stream and he thoroughly enjoyed it. Some of you may recall that day. I think he drank the whole bottle without sharing with @Necrobride!
Many of you have already brewed beer and may be all grain guys. That is fine, but on Saturday when you are boiling your grains, I am playing games. That is the point of using extract. Mr. Beer has been brewing beer for over 25 years with its extract, and our parent company has been around for over 150 years making beer. We know what we are doing. If you do want to do the all grain thing we don't want to stop you. We have award winning brewmasters here that know their stuff.
What did he brew? Well it was a recipe that Necro and I talked about. This was to be a hoppy malt forward beer. We have called it Necro's TPA and it has about 6.5% Alcohol By Volume, 85 IBU and about 18 SRM for those of you that are in the know. It is known as Necro's Twitch Pale Ale!
Channel Benefits
When Necro and I put together this plan he did not want to do anything that he could not get behind and approve 100%. Along with that we wanted to give everyone something special. Necro's TPA was the result. What do you get? A great tasting hoppy Pale Ale with free shipping and 25% off!
Beer Kits
Necro's TPA
Necro's Black Beerd

Necros first kit included the Necro's TPA to go with it
so when we were trying to put it together he said
that it needed to to be drinkable, yet something
you are proud to give to your friends.

Take our base craft recipe and add and
additional extract to it and a little bit more
cascade hops and you have the special
recipe that we and Necro put together
for you all.

This recipe is all about the beard and you
want to be careful not to get too much
in the beard or, you could and just save
it for later!
What is Twitch?
There may be a few of you that just stumbled on this page. Twitch is an Internet company that brings together gamers and an audience that watches and supports those gamer streamers. Some of who do this game streaming for a living. Sometimes these streams are informational, educational, or usually, just plain fun. We have teamed up with a few people and Necro, shown here, is one of those guys. He can be found at https://www.twitch.tv/necro Monday thru Saturday around 5pm eastern.
Mr. Beer also has a IRL sort of talk show on brewing as well. Please hop on over to https://www.twitch.tv/therealmrbeer if you want to learn more. We just stream making recipes of extract, partial mash, and all grain batches as well.