Lagers, Light Beers and Pilsners, all fall into the lager family. It is a term that we use loosely to help categorize beers into styles. Not everyone is going to know what a Pilsner is, but everyone knows the term, lagers. If you are a fan of easy-drinking light beers, then this is for you. Lager style beers are clean, crisp and extremely refreshing. They can also be doctored up with some hops, or unique yeasts and other adjuncts to add more flavor. Let us take you on a magical lager brewing journey.
The actual term lager comes from the German word "lagern" which means to store. Lagering is storing your beer at a cold temperature for a length of time. Today Lagers are beers that are brewed at colder temperature using lager yeast. Some of the most popular beers in the world are lager-style beers. The style can range in a variety of colors from light beers like Pilsners to dark lagers like Dunkels. One characteristic that all these beers share is that they are easy to drink with a clean taste and a crisp finish.

We offer several different styles of our Standard Refills that we would consider Lager styles. If you are new to brewing or just starting out, we would recommend brewing these Refills at first to help you get a better understanding of the brewing process and determine what styles you like the best. We have a lot to choose from.
Classic American Light

American Lager

This is a go-to light beer and a must brew for anyone who is a fan of light American style beers. You will not be disappointed with the clean, refreshing taste of this brew.

Brewmasters Tip

If you want a little more Malt and flavor to this beer try getting our Deluxe Refill. It includes an extract pack of LME to deliver more mouthfeel and body out of your beer.

This beer will have a fuller body and a little more flavor than its light counterpart with that same easy-drinking feel and a crisp finish. It is one of the most popular refills we have, so if you are a new brewer this is a must brew.

Brewmasters Tip

If you want to get crazy with this brew, then try brewing it as a true lager, but you must maintain the temperature. You will want to use Saflager S-23 yeast and be able to hold a brewing temperature of 53.6-59° F.
Grand Bohemian Czech Pilsner

Canadian Blonde

With a little more hop flavor and aroma this beer represents a classic pilsner style. It is light in color, with a crisp finish and a little bite of hops. Pilsners are becoming ever more popular in style amongst craft breweries and are a great alterative to the traditional American Lager Styles.

Brewmasters Tip

If you want to get a little more hop flavor out this beer add a half-ounce packet of Saaz Pellet hops right when you take your water off the boil and before you add in your HME. It will bring in a little extra bitterness and slight aroma.

A style that represents all the true Canadian lagers. A full-bodied lightly hopped blonde ale. This beer is perfect if you're not a fan of the traditional lager styles and or the hoppy aspects that come with pilsners. If you are unsure what you want to brew or what you might like this beer is the perfect starting point.

Brewmasters Tip

If you want just a touch of hop aroma out of this brew, we would recommend dry hopping with a half-ounce of Simco Pellet Hops. On day 7 of fermentation using clean scissors open the bag of hops and then pour them into your fermenter.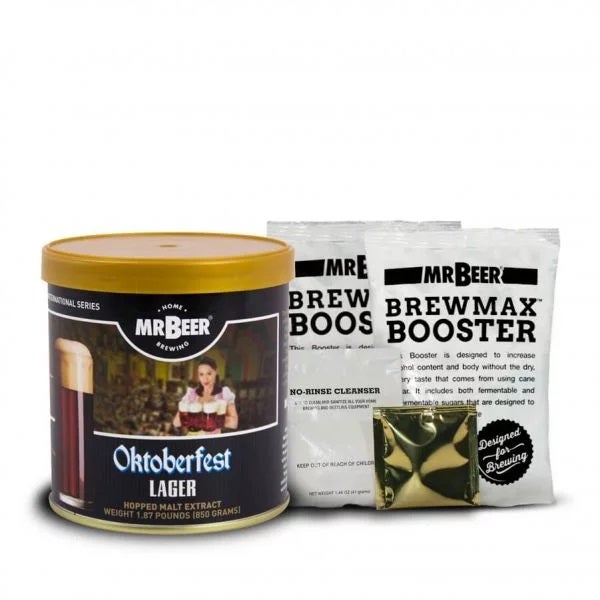 Oktoberfest Lager
The most popular refill that we offer is the Oktoberfest Lager, if you have not brewed this you are missing out! This beer represents a traditional German Oktoberfest or Marzen style beer. It's got a full rich malt flavor and is easy to drink. This is a must brew refill.
Brewmasters Tip
If you want to take your Oktoberfest Refill over the top, try getting the Deluxe Refill and a half-ounce of Hallertau Pellet Hops to dry hop with. On day 7 of fermentation open the bag of hops with clean scissors and then pour them into your fermenter.


Our Recipes are a combination of different ingredients to create a unique beer. All our recipes have been designed and created by one of our Brewmasters. If you are a fan of traditional beer styles and enjoy something easy to drink, then these recipes are for you. We would recommend brewing the following 4 recipes in order to experience different flavors and step up your brew game along the way. If you've got a few brews under your belt, then dive on in and let's get brewing.
Dad's Favorite Cream Ale

PartyTime Pilsner

A great refresher after a long hard day of just getting stuff done. With the addition of our Pale LME and a ½ cup of honey, this beer has an amazing taste. A nice pale color with just the right mix of malt and hops. Once you brew this it will instantly be a favorite.

Brewmasters Tip

This beer is a good style to experiment with to see how beer flavor changes over time. Try a bottle at 2,3,4,5,6 weeks to taste the difference between each week and find which week tastes the best.

If you're looking to get the party started off right, then start off with this Pilsner! With the addition of some Saaz hops, this recipe is a classic Pilsner. The addition of the Saaz hops add that extra element of slight bitterness and aroma to take this brew to the next level.

Brewmasters Tip

Over time hop flavor and aroma can start to dissipate. So, make sure to not let this age too long or you can lose some of the hop characteristics that are a key part of Pilsners.
Zombie Fest Lager

Pennsylvania Traditional Lager

Don't worry, this beer will not come back from the dead to eat you. With the addition of DME, Munich and Vienna Malt and Tettnanger hops this recipe has a lot going on! If you are only going to brew one Oktoberfest style this year than make this beer it.

Brewmasters Tip

This recipe has a lot of grains and DME. Make sure to read the instructions before brewing and check that you have all the required equipment you need. This beer does use a true lager yeast so make sure that you can hold a brewing temperature of 53.6-59° F.

If you are familiar with Yuengling than this recipe is for you. If you are not familiar with Yuengling than you need to brew this. This is our take on of the most historic beers in American and a beer that you can only get east of the Mississippi. If you like lagers, this needs to be on your to brew list.

Brewmasters Tip

We found that we enjoyed this beer best young. 2-4 weeks after bottling the beer was in its prime state and when we would recommend drinking it. You can let it age for longer but just remember that over time the malt flavors come forward and hop and other unique flavors move to the back.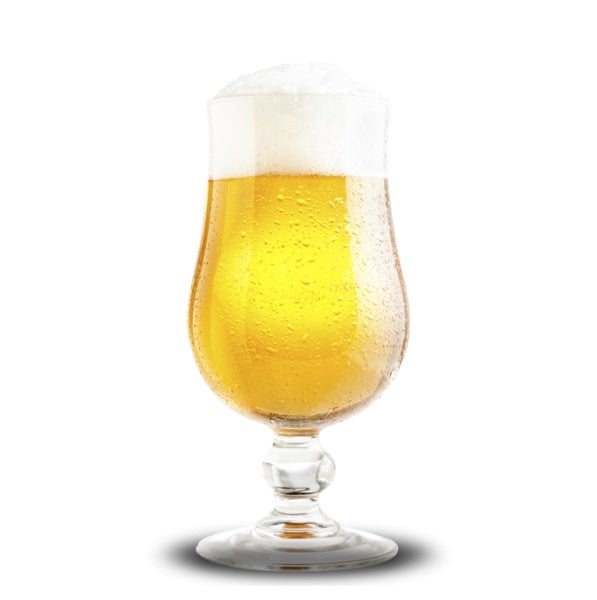 Chantilly Lace Blonde Ale
A super simple brew that is perfect to drink on a warm day. With the addition of orange and coriander, this beer is a refreshing treat and something that should always be in your fridge for summer.

| | |
| --- | --- |
| Uncle Monkey's Dunkel | Austin Pils |
| | |
| This beer has a lot of the characteristics that you would get from a traditional lager but with a darker color and more malty flavors. This brew is a true lager so make sure that you can hold a brewing temperature of 53.6-59° F. If you can brew this as a lager you will be rewarded with a truly unique beer that you will have to share with your friends. | If you're looking for a pilsner with a little more bite than this one is it. With the addition of an ounce of Hallertau Hops and Pilsner Malt plus true lager yeast, this is a great representation of the Pilsner-Style. Just make sure that you can hold a brewing temperature of 53.6-59° F. |
| | |
| | |
| --- | --- |
| Let it Be Honey Blonde Ale | Naughty Cream Ale |
| | |
| An awesome light blonde ale with a whole cup of honey! This beer is perfect for summer drinking and sharing with friends. With a clean, crisp taste and some residual sweetness from the honey, this beer has a lot going on. | A creamy, refreshing amber beer with amazing flavor. This beer uses 3 different types of grains and Hallertau hops to balance all that flavor out. This is the beer that you share with those who say they "don't like beer", which is a shame. You will convert them to the dark side with this brew. |
| | |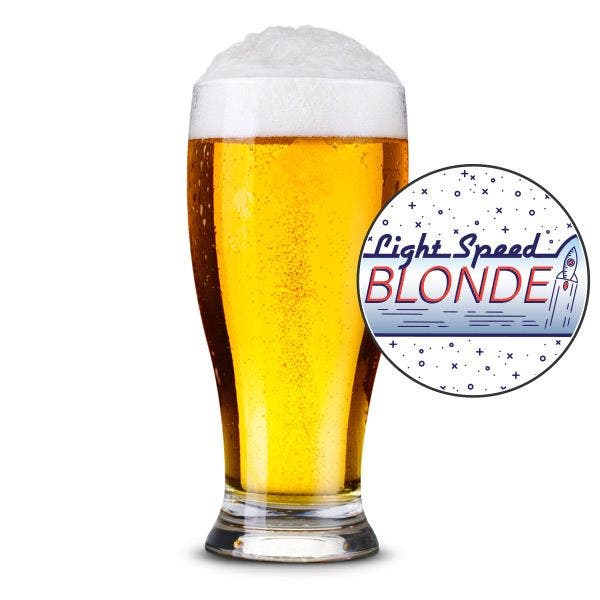 Light Speed Blonde
If you are wanting to brew our most popular Lager Recipe than that would have to be our Light Speed Blonde. A super simple recipe with the addition of some Citra Hops takes this to the next level. It's clean and crisp with just a hint of hop aroma and bitterness. It's a great representation take of how simple ingredients can make an extortionary beer.