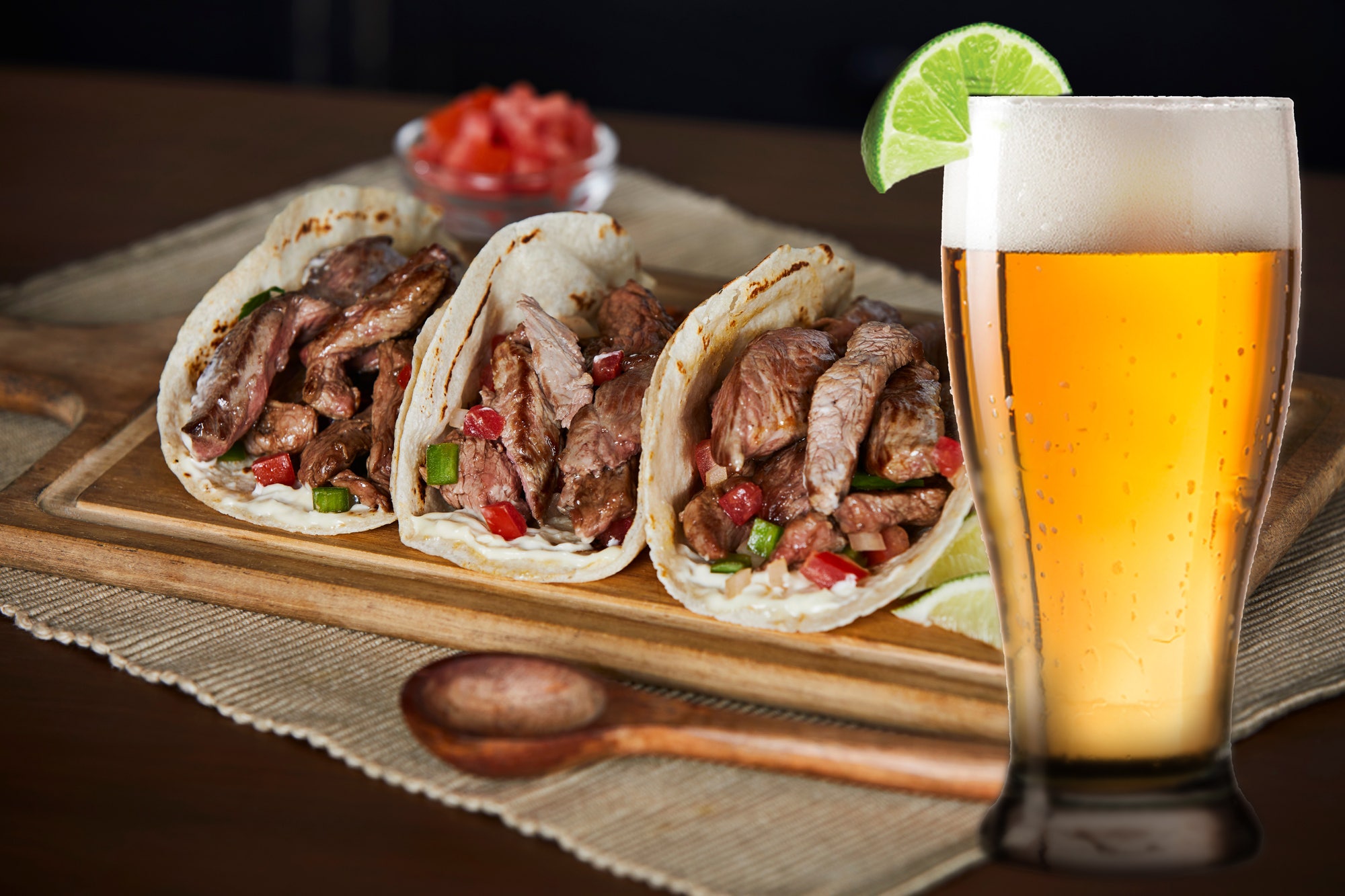 It is that time of year again… Grilling season! But if you are like me, and you occasionally get a little tired of the usual "burger fare", then this TACO recipe is for you! Now, if that was not enough on its own, these tacos are really special, because the steak in this recipe takes a long, luxurious, soak in our Aztec Mexican Cerveza!
Marinating "tougher" cuts of meat in beer works beautifully to soften the tissues of the beef and turn those cuts into vehicles for flavor! So, grab some steak, sacrifice one of your bottles of Aztec, and thank me later, because this recipe is WORTH IT!
What you will need:
1 LB Skirt steak, trimmed into 6-inch pieces.
1-1/2 cups of Mr. Beer Aztec Mexican Cerveza.
4 tablespoons of lime juice, divided.
1 teaspoon Kosher salt, plus extra as desired.
¼ Teaspoon black pepper. Plus, extra as desired.
2 cloves of garlic, thinly minced.
1 tablespoon olive oil.
2 Large tomatoes, cores removed.
½ a 7 ounce can of chipotle chilies in adobo sauce, chopped.
3 Tablespoons chopped cilantro, plus extra for serving if you like it.
8 corn tortillas.
Various taco toppings, whatever you like. Some classics include avocado slices, crumbled Cotija cheese, and lime wedges.
How to make it:
In a resealable container or freezer bag, add the beef, Aztec beer, 1 tablespoon of lime juice, 1 teaspoon of salt, and ¼ teaspoon of black pepper. Seal it up and give it a good shake, then place in the refrigerator for a minimum of 3 hours, or overnight to marinate.
After marination is complete, bring a grill to high heat, grill the tomatoes, turning them occasionally until they become well charred but are not totally falling apart… This can take anywhere from 5-8 minutes, in most cases. Remove the tomatoes from the grill and set them aside.
Reduce the grill to medium-high heat. Remove the steak from the marinade and pat it dry with a paper towel. Season the steak with salt and pepper and grill the steak until it is charred, which usually takes about 2-3 minutes per side. Once cooked, remove the steak and set it aside to rest for about 10 minutes.
While your steak rests, add to a blender, your onion, garlic, charred tomatoes, chipotle, and the last 3 tablespoons of lime juice: blend until smooth. Add in the chopped cilantro as well as salt and pepper to taste, then pulse the blender until combined. Put that tasty salsa you just whipped up, in a bowl for serving!
Lastly, grill those tortillas to get a little char on them, for about 30 seconds per side. Slice the steak into ½ inch strips. Add steak to tortillas, top with salsa, cilantro avocado, and cheese, if you like it that way! Serve those tasty tacos with a wedge of lime. There you have it! AZTEC TACOS!
As always, let me know in the comments if you make this recipe! I hope you enjoy it and feel free to ask any questions!
Cheers!
Ashley