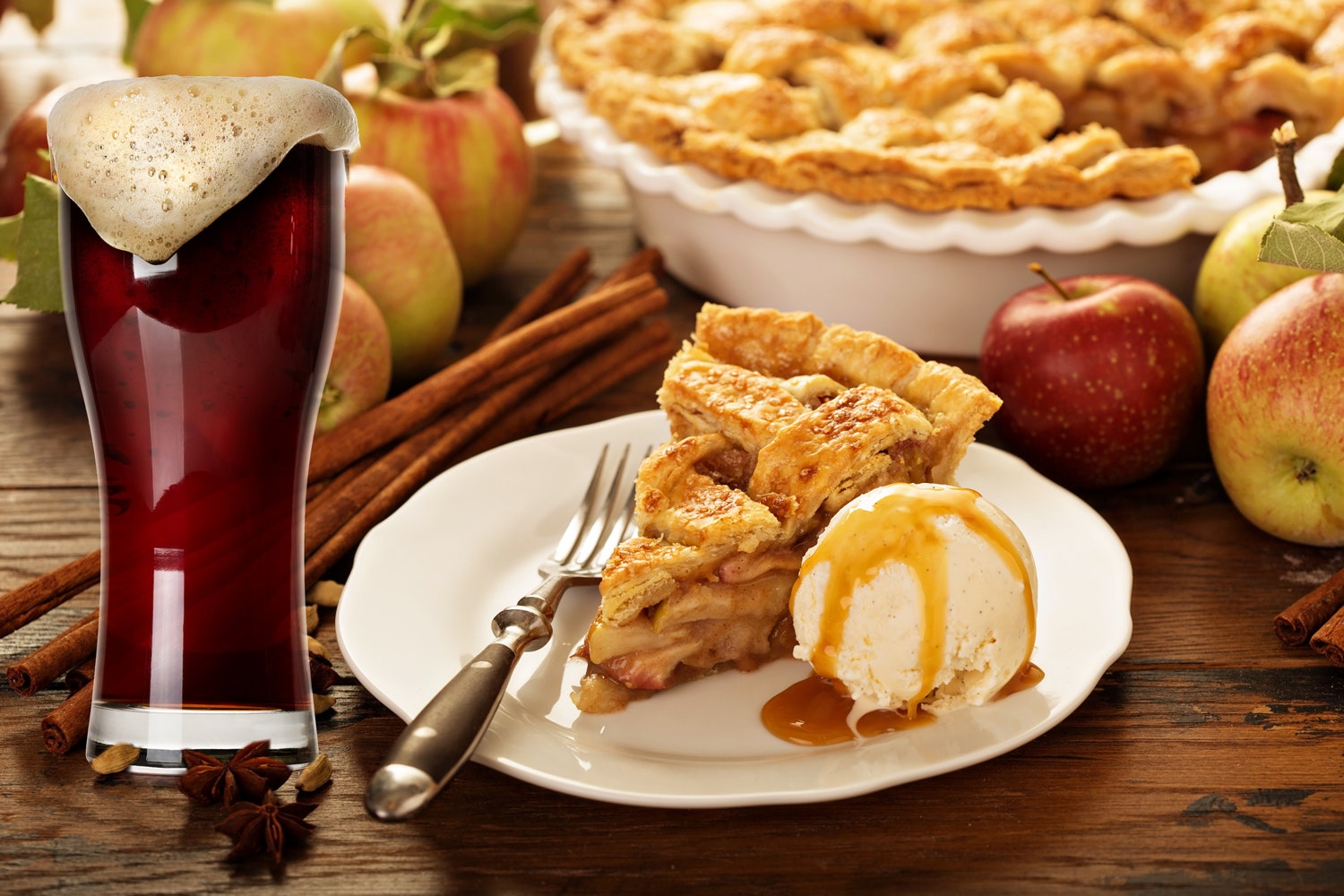 It is officially fall and even here in Tucson, at the Mr. Beer HQ, we are starting to feel a chill in the air! I personally love to pick apples in the fall and make all sorts of delicious treats from them. On my last apple-picking adventure, it occurred to me that I needed to "beerify" a quintessential fall classic, the Apple pie. Truth be told, it wasn't terribly hard to do, but boy oh boy, is it GOOD! So, get yourself some apples, and let's make a pie!
What you need:
2 sheets of pre-made pie crust (One layer for the top and one for the base)
8-10 Granny Smith apples (peeled cored and sliced)
12 ounces of any beer spiced with cinnamon and or other holiday type spices
2 tablespoons of flour OR cornstarch
2 tsp Cinnamon
1 tsp Ginger
½ tsp. Salt
1/4 C White sugar
½ C Brown sugar
2 Tbsp chilled butter, cut into small cubes
1 egg
1 Tbsp milk
How to make it:
In a large bowl, combine the apples and the 12 oz. of the spiced beer of your choice. Soak at room temperature for 2 hours, stir occasionally.
While the apples are soaking in the beer, preheat the oven to 400 degrees Fahrenheit.
Place one of the sheets of pie crust dough in the bottom of a pie plate.
Using a colander, drain the liquid off the apples and place them in a bowl. Toss them with flour or starch, cinnamon, ginger, salt, and both sugars until coated. Place the Ale apple mixture into the prepared pie plate with the crust and add a few small chunks of chilled butter evenly over the surface (don't worry about mixing, the butter does not need any help).
Top with the remaining layer of crust, pressing the edges of both layers together with the prongs of a fork, so that they crimp together.
In a small dish, whisk together the egg and milk to create an egg wash and brush liberally over the surface of the pie top crust. Cut five slits in the top for venting.
Cover the edges of the pie with a strip of foil to prevent over-browning and bake on a sheet pan on the middle rack for 35 minutes. Remove foil and continue baking for 10-20 minutes or until crust is golden brown and filling is bubbling. Watch it carefully in case it starts to bubble over out of your crust.
Let cool for at least 30 minutes before slicing. Serve with a scoop of vanilla ice cream and maybe even a little caramel drizzle!
Well, there you have it! A delicious Apple pie, containing delicious beer. I think you will really love what the beer does to the apple slices in the soak! You will come out with a crowd-pleasing pie to suit any of the hungry mouths at your holiday dinner table, or, you know, your own mouth if you prefer not to share. Heheheh.
As always, I hope you enjoy this recipe, and let us know if you have any questions, down in the comments.
Cheers!
-Ashley