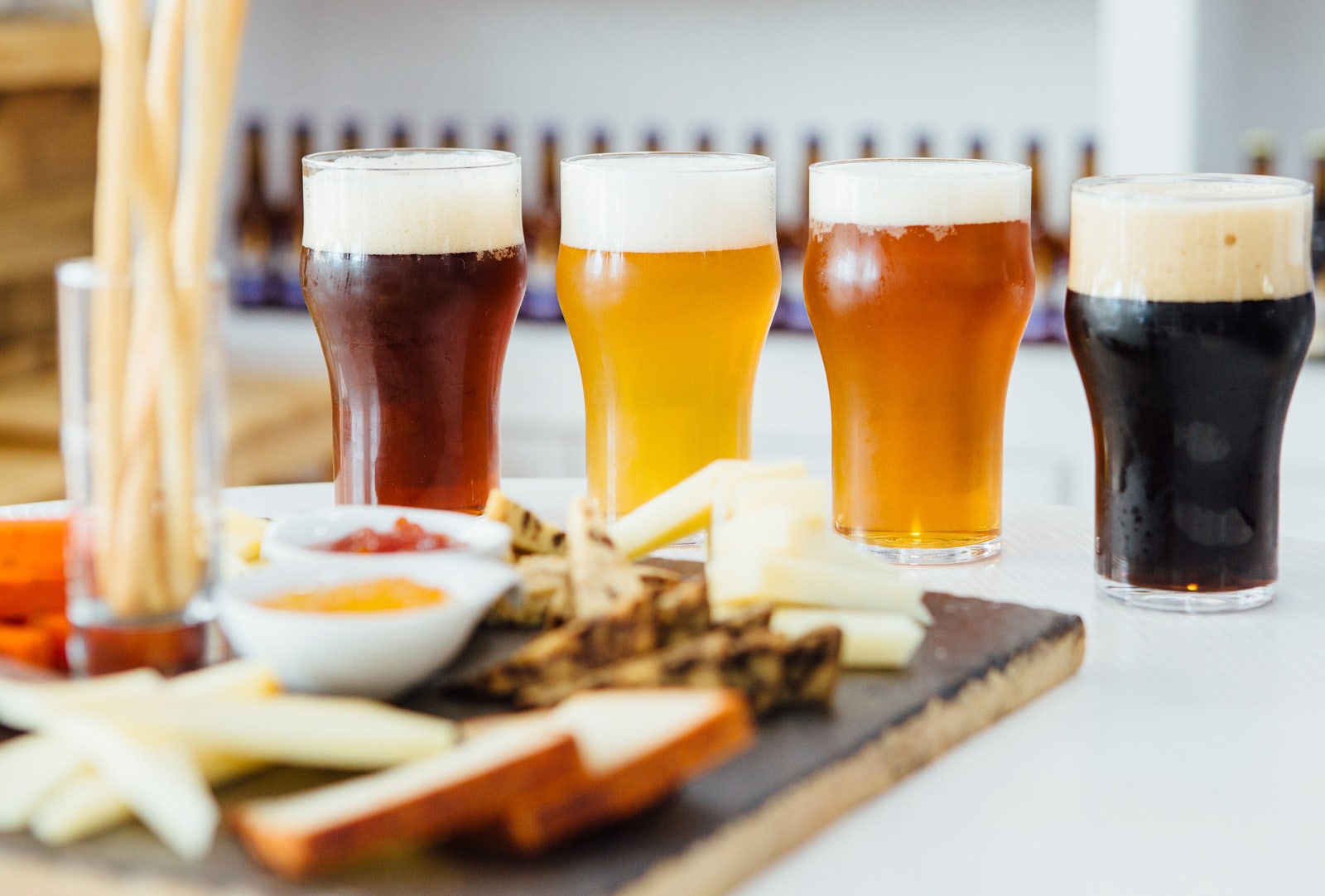 If you are like most of us, you probably enjoy imbibing your awesome, home-brews with some delicious food, but sometimes that can seem like a challenging task. Worry no more, I am here with an easy guide to get you well on your way to beer-pairing greatness!
Below you will find some general suggestions, but these are just ideas and what's here is only a few of them so do not be afraid to experiment and try things, too! Sometimes, rules are meant to be broken!
Basic beer and food pairing suggestions:
Light lagers: Spicy food, burgers, salads
Crisp, refreshing, and typically more neutral in flavor, "Light Lagers" tend to pair harmoniously with most savory foods, but they can really become an asset when it comes to spicy food. Grilled foods like chicken, hot dogs, brats, and even raw veggies also pair nicely with Light lagers.
Wheat beers: Spicy food and fruity desserts
Typically, soft on the pallet with a light grain character, garnering most of its "flavor" from the yeast character, wheat beers are another style that is well-matched with a broad range of foods. Try pairing wheat beers with Buffalo wings, Spicy noodles, Salads, Fruit tarts, or Pastries.
India pale ales (IPAs): Steak, barbecue, and Mexican food
Hoppy, bold, and often delightfully bitter, IPAs, characterized by their strong flavor, often do best when paired with rich-tasting and "fatty", meals. They can hold their own against dishes such as Barbecue ribs, French fries, Mozzarella sticks, Steak, Burritos, and Fajitas.
Amber ales: Pizza, fried food, smoked pork
Toasty, and typically slightly bready on the aroma, with a crisp, clean finish; Amber ales do well at balancing out rich, savory foods, without getting in the way of their flavor. For this reason, they pair well with comforting foods such as Barbecue pulled pork, Jerk chicken, Pizza, and Brisket.
Dark lagers: Pizza, burgers, hearty stews
These beers typically boast a light caramelly sweetness, that is balanced by darker, roasted flavors. I find these beers really shine when they are paired with certain traditional European dishes, like Sausage, Goulash, Potato dumplings, Bangers, and mash or pretzels!
Brown ales: Sausage, sushi, fish
Heavier roast, and rich roasted flavors of coffee and chocolate, brown ales showcase a round and nutty flavor with a drier finish. Truth be told… Brown ales pair well with MANY things, but here are a few suggestions to get your wheels turning: Sausage, Roast pork, Barbecue, Fish, Sushi.
Porters: Seafood, coffee-flavored desserts, game meats
Porters are made with roasted brown malts that give the beer strong notes of chocolate, caramel, and coffee. Like Brown ales, but richer. They are typically drier on the finish and though similar in flavor to Stouts, they are not as "creamy" in texture. Try them with Lobster, Crab, Mexican mole, Barbecue, Rabbit, venison, and game meats.
Stouts: Chocolate desserts, shellfish, Mexican food
Stouts are best known for their black color and dark, roasted flavor. Despite their appearance, stouts are not necessarily high in alcohol content, bitterness, or flavor, and there are many mild, well-rounded types of stout. Usually characterized by strong hints of chocolate and coffee as well as a silky-smooth consistency. Try pairing with: Chocolate truffles, Chocolate mousse, Lobster, Barbecue, and Shellfish.
Well, I don't know about you, but now I am STARVING! So, do as I do, get yourself some homebrew, and whip up some of these delicious foods to pair along with it! If you enjoyed this article, or if you have tried any of the above pairings, let us know in the comments section!
Until next time… CHEERS!
Ashley