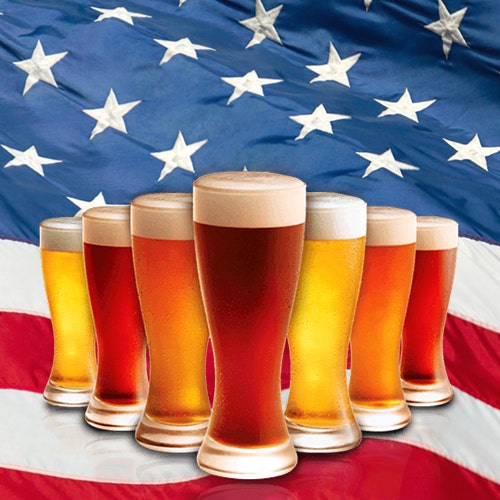 One awesome thing about homebrewing is brewing beer and sharing it with friends and family during celebrations. There is no better time to do that than during holidays and celebrations.
The 4th of July is right around the corner, so if you want to brew up some new batches, you need to get to brewing now to enjoy it for the 4th.
So, we picked some of our favorite recipes that we like to drink during this amazing holiday.
1776 American Pale Ale - Brew up this classic style brew reminiscent of the beers that were available back in 1776. Celebrate America in the form of a beer!
Patriot's Pride American Lager - America, the land of the free and the home of the grains. Amber waves and resinous cones, plus a little yeast and water from the purple mountainous majesty all work together in harmony to create bountiful nectar. Share some great grains with your kith and kin this holiday. It's what the American dream is all about.
Endurance Cold IPA - Looking to take an expedition into the unknown? Then this Cold IPA is for you. Brew with lager yeast at ale temperatures creates a complex flavor that will leave your pallet asking for more. Feating slight bitterness but most juicy hop notes this brew is perfect for those who don't like heavy-hitting IPAs. This brew is surprisingly refreshing and easy to drink. Just be careful, or you too may find yourself at the bottom ocean
Slipper Socks Double IPA - What's better than slipper socks? Nothing really, but we found a way to make them even better. Put on your best pair of slipper socks and enjoy this amazing IPA. We wanted to clone one of our favorite beers from the Northeast, Heady Topper. If you have that beer then understand why we did it, if you have not then you need to brew this. Full of hop flavor and aroma this beer will blow the slipper socks right off your feet. If you are going to brew an IPA, then this is the IPA you need to brew.
On the Mountain Pop Cream Ale - Well…. Sometimes we get a little crazy and that is what we did here. We heard these odd rumors about brewing beer with soda instead of water. YES, soda, sounds crazy right? We thought so too but we just had to see for ourselves. The result of this crazy concoction was absolutely magical! The beer is smooth and easy-drinking, but you get this kind of tart flavor from the soda. It's hard to describe but it's incredibly refreshing and super crushable. If you're looking for something out of the box to brew, this is it! It will surprise you and anyone you share it with.
Maibock is Your Bock - This bock is your bock, this bock is maibock, from the malty flavors to the hoppy aroma. From the Little Brown Keg into your bottles, this bock was made for you and me. As I went brewing with that hopped malt extract, I saw above me those empty bottles and saw below me that liquid gold. This bock is your bock, this bock is maibock.
Day After Day IPA - I remember finding out about this beer. Every day my mind is all around beer. Looking out from my brewing room, day after day. Bring it home, better make it soon, this beer is for you. Founder'd in the belief that beer should be enjoyed All Day, we've developed a recipe that doesn't take all day to make. It is a smorgasbord of malts and hops with a clean finish. Now you can make a perfect replica of one of the most delicious IPA's - ever. It's Bad, tell everyone it's yours.
Watermelon Wheat - This thirst-quenching beer starts with the base of a Bavarian Weissbier, but then adds fresh watermelon during secondary fermentation. This end product results in a refreshingly fruity wheat beer with a soft watermelon flavor and aroma.
Dad's Favorite Cream Ale - Give Dad a big frosty reward for all his hard work! Evenly balanced, pale and light bodied, this classic Cream Ale is just what he needs to extinguish that powerful thirst after working up a serious sweat out in the yard.
Wild American Wheat - Combining the flavors of Bavarian Wheat and Classic American, this beer has the best of both worlds. Balanced flavor with a fruity finish, just enough of everything but not too much of anything.
If you happen to brew one of these recipes make sure to take some pictures during the 4th of you enjoying your homebrew and celebrating the greatest day of the year!
Cheers,
Robert